Signia is one of the leading brands in the hearing aid industry. They are invested in using cutting edge technology to design innovative devices that maximize hearing capacity and performance. Their hearing aids offer sleek designs, advanced features, and enhanced connectivity to create an optimal user experience. Our practice has extensive experience and knowledge about Signia's technologies and products, allowing us to make recommendations that meet your hearing needs. This includes the following:
Hearing Aids
Signia is the producer of several hearing aids that are equipped with a range of features and technologies, allowing them to seamlessly integrate into daily life. This includes the following devices: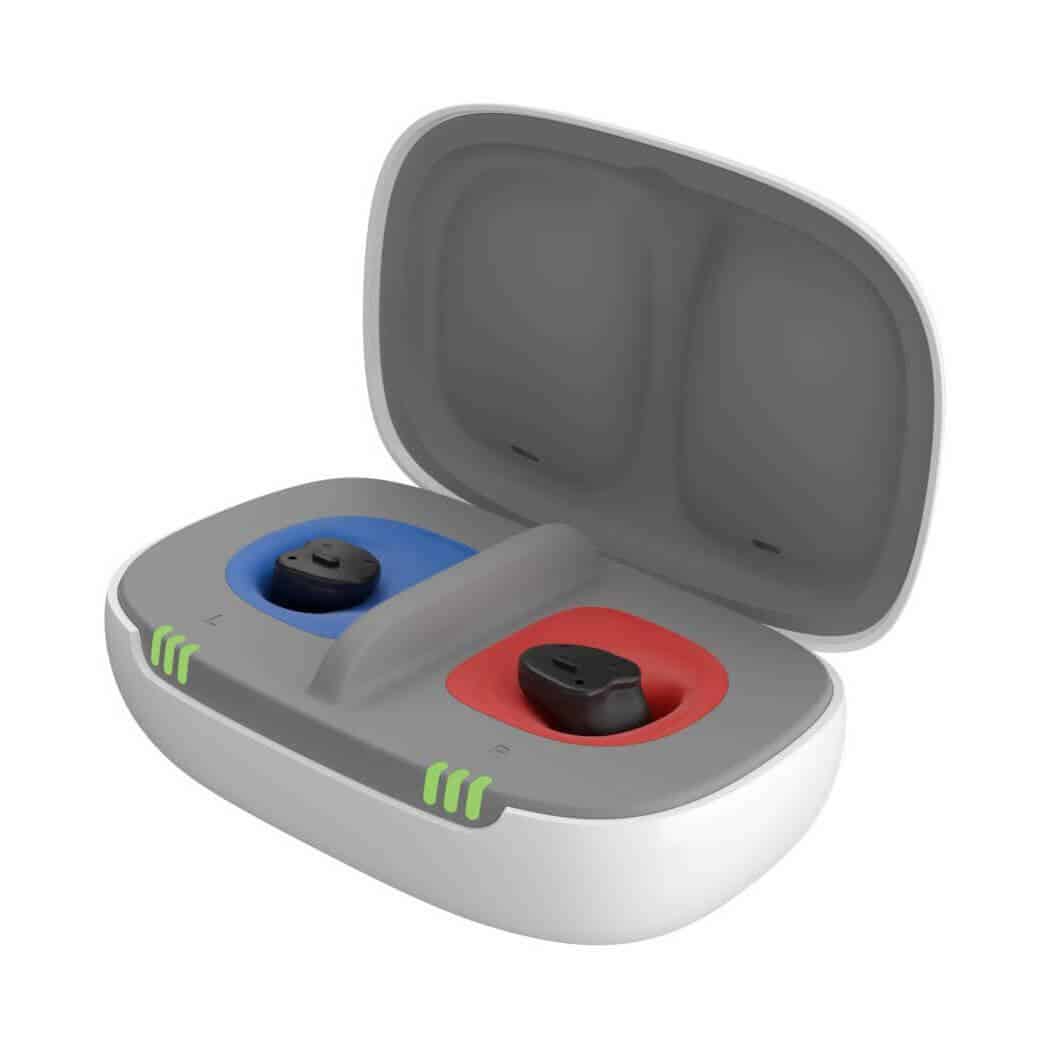 ---
Insio Charge&Go AX
Their latest model, this device is the world's first wireless charging custom in the ear hearing aid. The Insio Charge&Go AX is tailored to the shape of one's ear canal so it can comfortably sit inside the ear. It uses Signia's Augmented Focus technology which processes speech and background noise separately, delivering enhanced sound quality. The Insio Charge&Go AX also offers contactless charging, Bluetooth connectivity, and iOS and Android compatibility.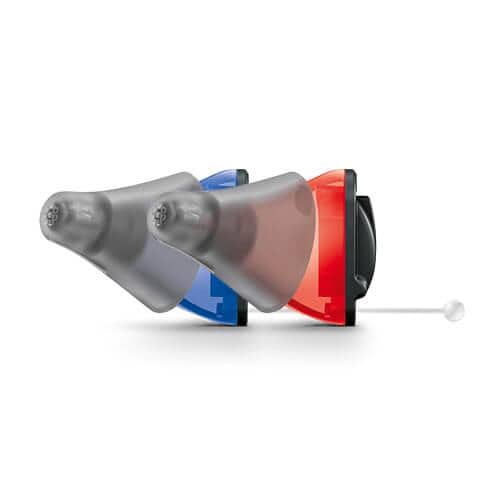 ---
Silk X
Signia's latest completely in canal style hearing aid is one of the world's smallest devices, offering ultimate discretion. Unlike other types of in the ear hearing aids, the Silk X does not need to be custom-fitted to your ear. Rather, it offers sleeves that click onto the device that come in different sizes. This means it is a ready to wear device, not requiring additional wait time for custom pieces to be made. The Silk X also offers one enhanced microphone directionality features, a remote control where the wearer can manage features, as well as compatibility with the Signia App.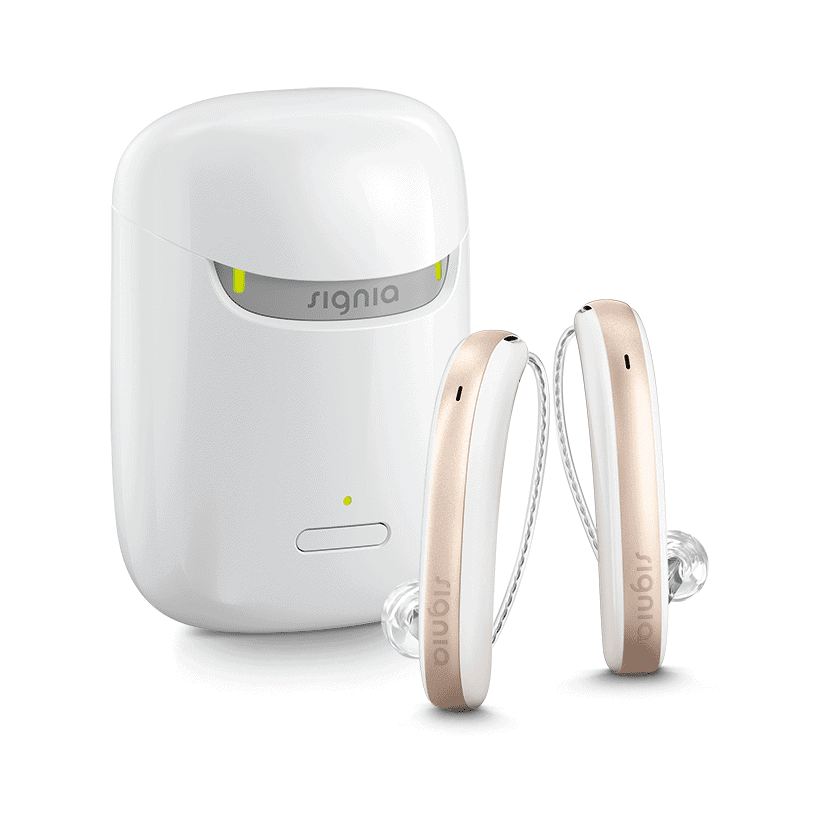 ---
StylettoX
This hearing aid offers sophisticated design and a refined fit. The StylettoX has acoustic motion sensors which allows the device to switch to settings that are optimal for hearing in a given environment. This device also comes with a portable charging case and features including tinnitus management settings and Bluetooth connectivity.
These hearing aids are known for their groundbreaking design and innovative features that fully utilize advancing technology.
Hearing Aid Technology
Signia develops and utilizes different technologies that enhance the hearing aids they produce by equipping them with a range of features that are designed to create the best hearing experience. A few technologies their hearing aids utilize include the following:
Signia App

Available for iOS and Android smartphones, the Signia App stores your preferences and allows you to manage your features - volume settings, audio streaming, directional hearing etc. You are also able to monitor battery life and connectivity. The app also hosts one of the latest features: Mask Mode. This feature better helps people understand what others who are wearing a face mask are saying. Launched during the pandemic, this app is designed to reduce the muffled sound that is often presented with face masks. You can turn this feature on by simply pressing a button on the app!

Signia Assistant

Using artificial intelligence, Signia created the Signia Assistant which lives in it's app. Compatible with both iOS and Android phones, the assistant offers support 24/7. It learns your preferences and settings and is able to switch to those settings when in a new environment. The assistant is also able to answer questions about your device, settings, maintenance etc.

Augmented Xperience

This technology uses two different processors to analyze and process sound. It differentiates the sound of speech from other environmental noise and processes them separately. This strengthens speech clarity and allows people to hear speech in settings with background noise much more easily.
Signia is continuously developing new technologies to innovate what hearing aids can do. In addition to technology for devices, Signia produces accessories that enhance efficiency, convenience, and usability.
Hearing Aid Accessories
Signia also makes a variety of hearing aid accessories that add to the convenience and ease of using the device. A few accessories include: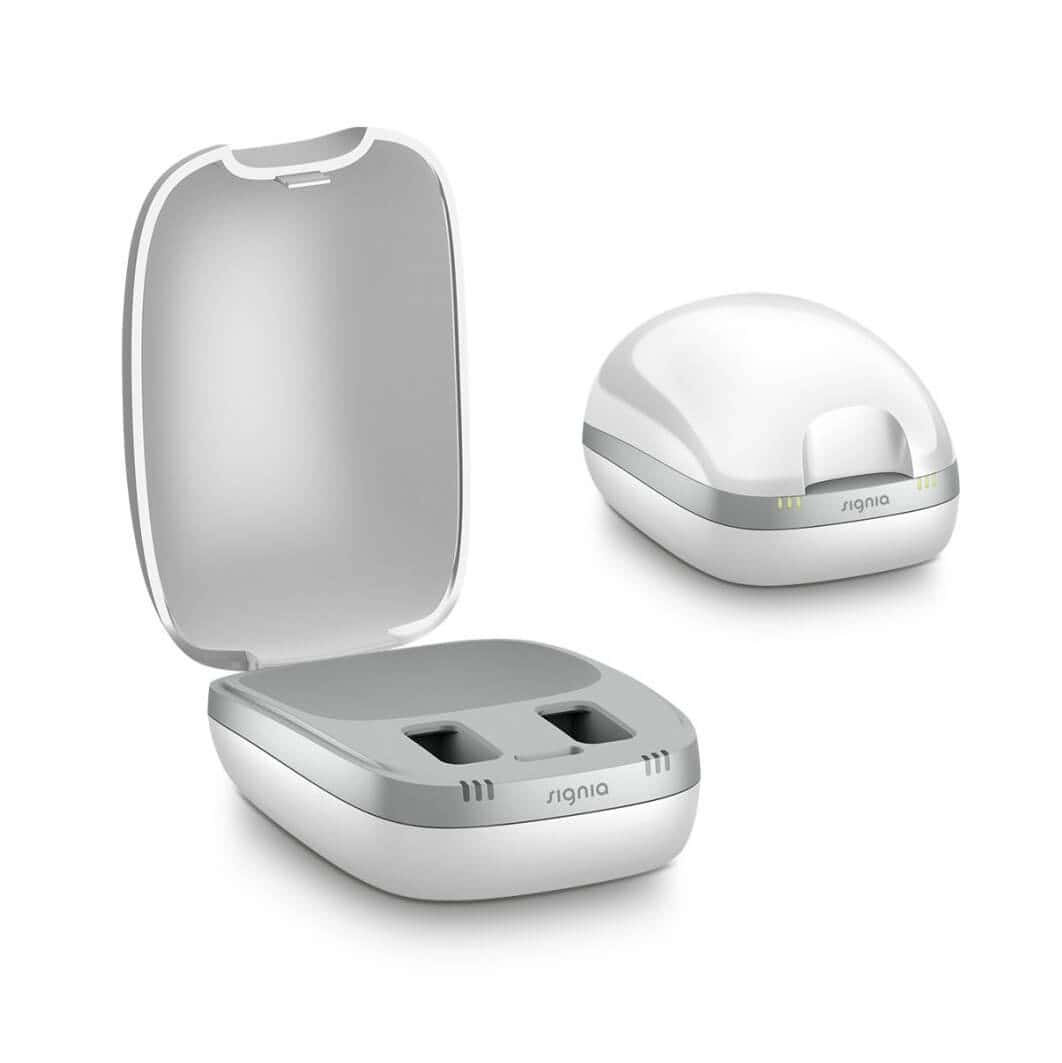 ---
Charging Solutions
Signia makes a variety of charging options including pocket-sized portable cases, motion chargers, and chargers that also clean the device as its charging.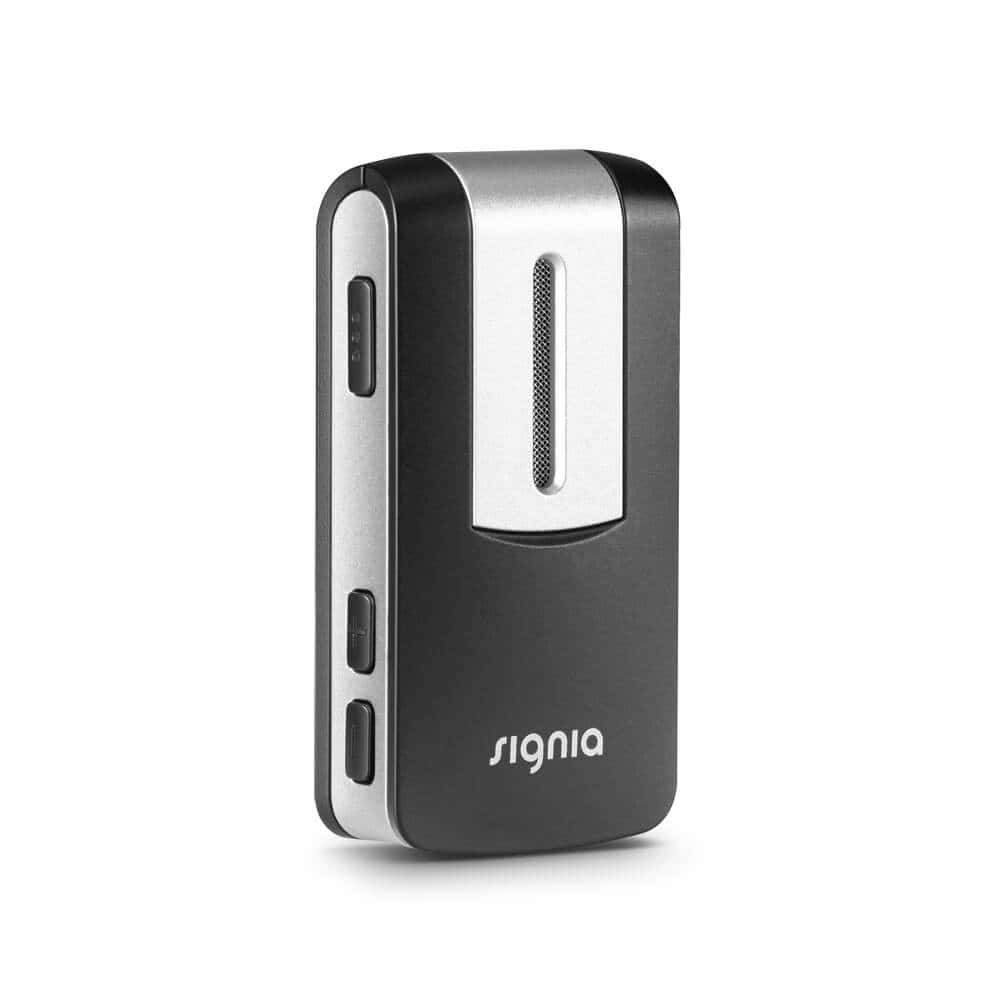 ---
StreamLine Mic
This multipurpose accessory serves as a directional microphone and wireless headphones that allow people to stream audio directly from phone calls and other electronic devices.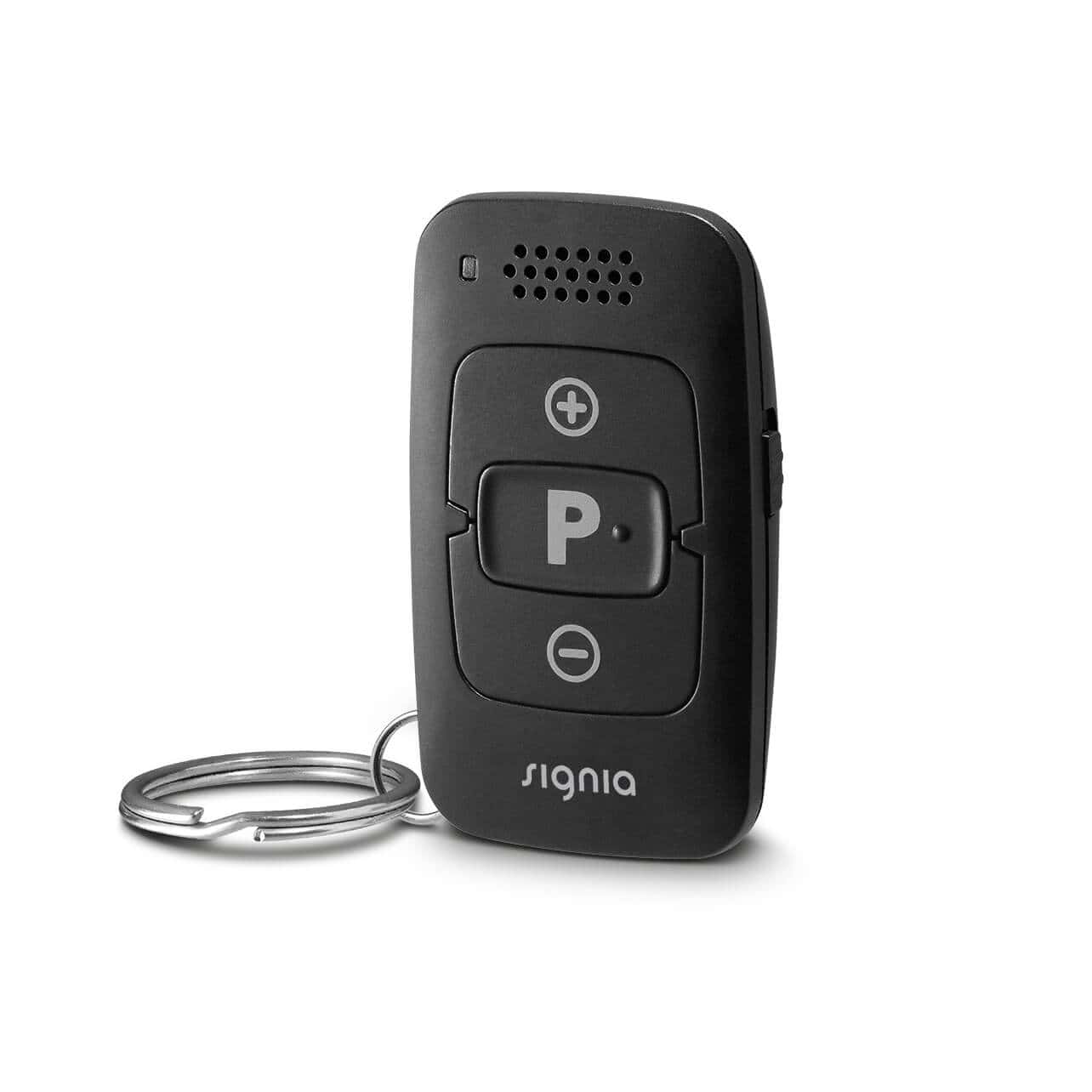 ---
Remote Control
this pocket sized remote control (small enough to be attached on a key ring) allows people to control hearing aid features.
Signia's cutting edge technology, innovative products, and savvy hearing aids makes this brand one of the best in the industry.