Phonak is the largest hearing aid manufacturer and a leading brand in the industry. They are known for making the first advancements in digital hearing aids which innovated the entire industry. In 2017, Phonak introduced the first hearing aid model to utilize rechargeable batteries. The following year, they released the first device that featured Bluetooth technology (the Audéo Marvel) which made greater connectivity possible. Their latest models continue to advance what hearing aids are able to do. Additionally, their suite of technologies offer dynamic features that increase sound quality and facilitate personalized listening experiences.
Hearing Aids
Phonak makes various styles of hearing aids including in the ear, behind the ear, and receiver in the canal types. These styles address a wide spectrum of hearing loss from profound to mild hearing impairment.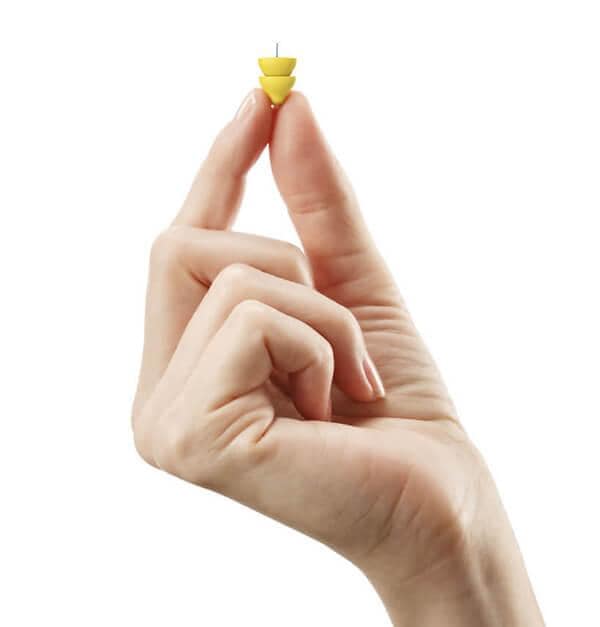 ---
Lyric
The world's first 100% invisible hearing aid, the Lyric sits deeply in the ear and can be worn 24/7. The Lyric is inserted by a hearing healthcare professional who places the device near the ear drum. While most hearing aids are designed to absorb and process sound outside of the ear, this device uses the anatomy of the ear to deliver natural sounds. The Lyric helps the ears localize sounds which better allows people to know where sound is coming from.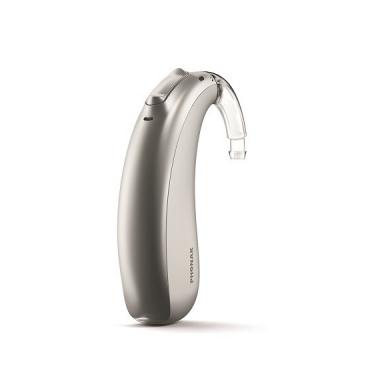 ---
Naída Paradise
This behind the ear hearing aid is designed for more profound degrees of hearing loss. The Naída Paradise is all about delivering powerful sound and comes with several features including: speech enhancer, noise cancellation, multiple Bluetooth connections, and tap controls.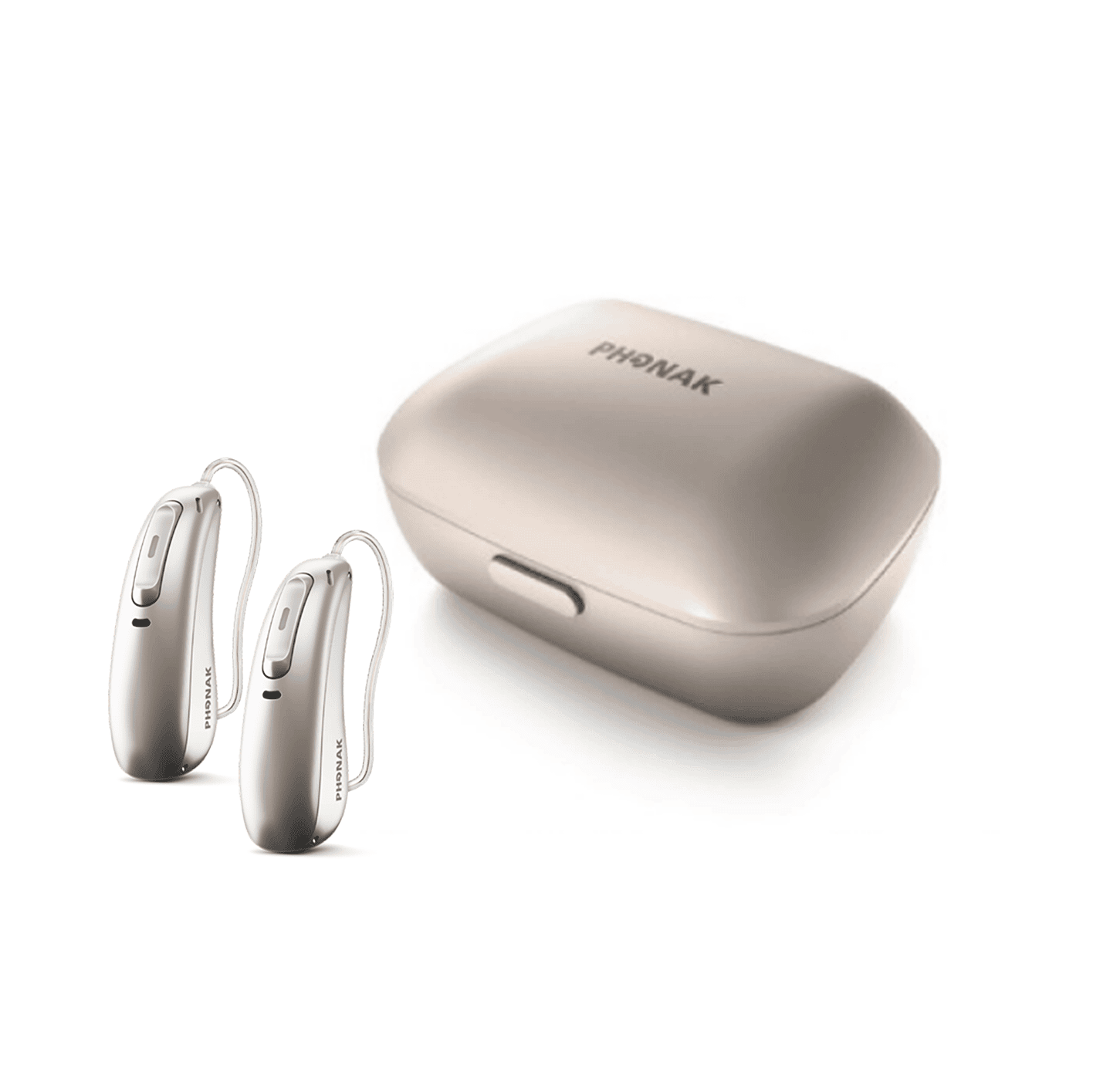 ---
Audéo Paradise
A receiver in the canal type of hearing aid, this device is an upgrade of the Audéo Marvel. It offers a suite of features including: Bluetooth connectivity, tap controls, motion sensing, and improved noise cancellation technology.
These are among the latest hearing aids developed by Phonak who is consistently pushing the limits of hearing aid technology and what these devices can do.
Hearing Aid Technology
In addition to hearing aids, Phonak continues to develop new technologies that make their devices and other products dynamic. Their latest key technologies include:
PRISM Processing Chip

A processing chip is integral to hearing aid devices. Phonak created a new chip that can execute several enhanced features. Standing for Processing Real Time Intelligent Sound Management, the PRISM chip can seamlessly operate various features and programs, allowing hearing aids to easily respond to the environment the wearer is in.

ActiveVent Receiver

This is a speaker, an integral component of a hearing aid, that is designed specifically for challenging listening environments. The ActiveVent Receiver has a built-in vent and a small disc which moves between open and closed. When open, it lets in more environmental sound which contributes to the naturalness of one's voice. WHen closed, it blocks background noise which allows the wearer to better hear and focus on speech or streaming content.

Noise Cancellation

This feature allows people to actually personalize the amount of noise cancellation they want in real time. This feature can be managed and adjusted on the Phonak app.

Tap Controls

A motion sensor built into Phonak hearing aids allow people to easily tap their device which can perform various functions. This includes answering phone calls, streaming or stopping music, activating the voice assistant etc.

Phonak App: + Voice Assistant

The Phonak smartphone app allows people to personalize all their settings, manage key features, and seek support when needed. This includes accessing the voice assistant which can help answer questions and perform specific functions.
These exciting technologies expand the possibilities for hearing aids. Phonak continues to research and upgrade their technology to maximize hearing aid performance.
Hearing Aid Accessories
Phonak also develops hearing aid accessories that support wearers getting the most out of their device. This includes: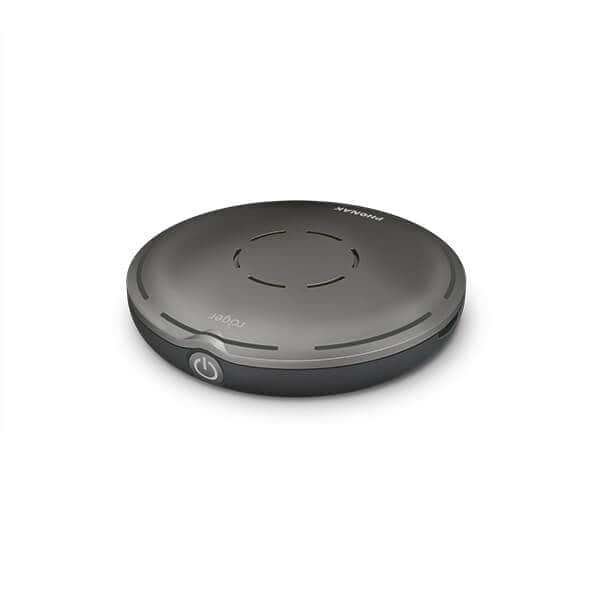 ---
Roger
Roger is the umbrella name for the microphone options that Phonak offers. Microphones allow people to better hear in environments with background noise. These small directional microphones can be clipped on and are fully automated.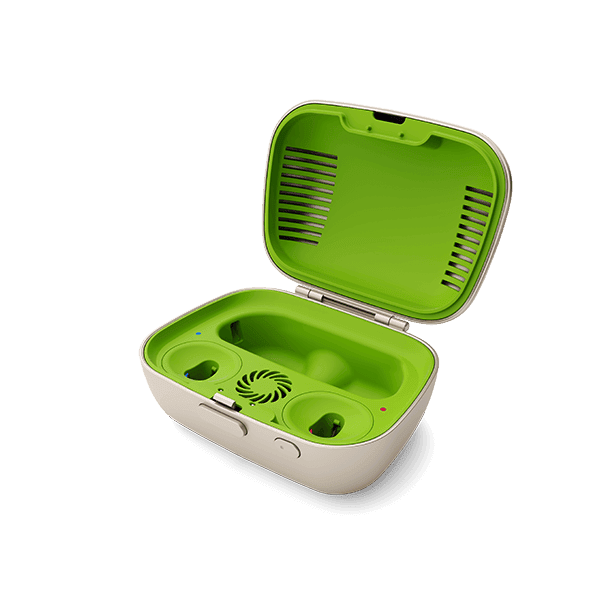 ---
Charger
Phonak makes a charger that not only charges hearing aid devices but also dries them with active ventilated air flow as well as UV light.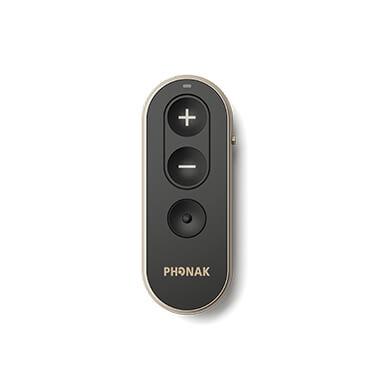 ---
Remote Control
this small remote control lets people manage their device conveniently. With the tap of a button, people are able to adjust the volume or switch program settings.
Phonak's accessories support their hearing aid features, facilitating a dynamic experience that is easy to navigate. Our practice and hearing healthcare providers are well trained and knowledgeable about Phonak's products and technologies, allowing us to make the best recommendations!